Welcome to Day 5!
Again we delve into the scrap bag.
I'm so excited about today's task.
We're making cute little cars!
Does it look familiar?
It's the car I designed for my fabric line "Vintage Play."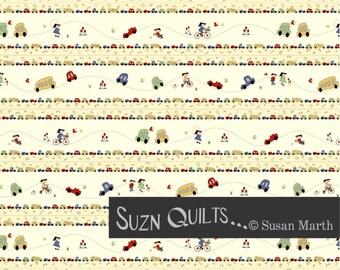 I also used it in my "A Christmas Sampler" pattern.
I like using freezer paper templates,
then machine stitching the pieces onto the background fabric,
but you can use your favorite appliqué method.
Since we're making 3 cars for our quilt,
you'll need 3 of each car part (6 tires total).
I cut 3 rectangles of freezer paper,
stapled them together with the templates on top
then cut them out with paper scissors.
Notice I'm not showing cutting out the circles.
I realized the wheels were about 1″
so I'm using my pre-cut 1″ circles that I use for the Tiny Dresden centers.
The next thing I did was alter your templates so you could do the same!
Next, I removed the staples.
Then, after much deliberation, I selected the fabrics,
fused the templates & cut out the fabric adding 3/16″ seam allowance.
I used my magic Apliquick Bars to help me glue the seam allowance to each piece with narry a divot!
You only need to make the parts for 3 cars today.
Don't worry about the gluing or appliqué part,
we'll save that for another day!
I made a PDF of the reversed templates for you.
Click the link below to bring up the PDF.
When you get your blocks made please share them with us on my Facebook group here: https://www.facebook.com/groups/SewingWithSusan
I hope to be back tomorrow with Day 6 blocks.
Just Keep Sewing…
Susan